By Paul Ashton, Psy.D., D.Min.
Consultant to the VIRTUS® Programs
---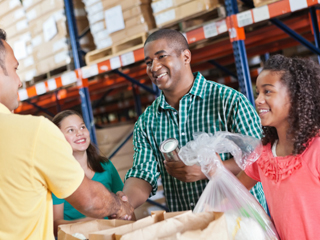 "It's not how much we give but how much love we put into giving."
—Blessed Teresa of Calcutta
Christmas! The most wonderful time of the year has arrived! Christmas fills the world with Hope, Peace and Love; it melts the hearts of all who hear her sweet carols and are transported to a place of warm memories. The hustle and bustle is over, the gifts are exchanged (and some lined up already to be returned for another size or color) and the parties have dwindled in anticipation of New Year's celebrations. But the season is far from over. These days between the "Eves" are wonderful opportunities to give gifts that are lasting and can be transforming.
While we might be tired and long for a few nights of rest and relaxation, I propose a wonderful way to inspire you, energize you and fill your heart to the brim with joy. There is more room in your heart yet to offer gifts these next few days to a person in need. It may be a family member, friend, stranger, teacher, mentor, or neighbor—anyone who fits the category. In the great spirit of Christmas, as a way of offering thanks to God for all of your gifts and blessings, why not spend just a few minutes in the next few days to give just a little extra something. The gifts you give these folks are simple yet profound.
Offer a word, sign, gesture, note, or song—whatever you dream up to express how you feel. It may be one word or two on a piece of paper, a phone call, email or text. It may be a hug or handshake. Whatever it is, it must be given from the heart and have no monetary value. You get the idea. No more chocolates, candles or sweaters, and certainly no re-gifting. These gifts are intangible gifts of the heart.
Won't you please join me in celebrating these next seven days by giving just a little more?
December 26: To your friend: be they long lost, ever present or seldom acknowledged. You pick one. Give them a sign from your heart.
December 27: To your enemy: You know who they are. It doesn't have to be made known to them. It could be prayers said silently in your heart, or an anonymous symbol from you. Or if you have the courage, it could be words of forgiveness or an apology. This is a hard one.
December 28: To a child: Give the gift of a good example. Be they a stranger, relative or family friend; show them a simple example of the good way.
December 29: To a stranger: A kind gesture of charity. Find a way to make someone's life easier if even for a moment.
December 30: To someone you love: More love—a sign or symbol of your love—words, a song, a poem. Only love.
December 31: To the world: Peace. Integrity. Respect. Honor. Do something valuable for the world that God has given us to enjoy. Give a gift to your environment, your neighbors near or far. Be a light in the darkness. Find a way.
All of us at the VIRTUS® family wish you and your loved ones a holy and Blessed Christmas! We wish you the gift of love!