Intercessions for the Saints Celebrated in July
Be pleased, O God, with our litany of intercessions of the Saints we celebrate in July. You sent these men and women to be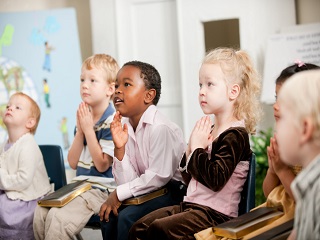 spiritual mothers and fathers for us. Listen to our prayers, as we invoke their intercession and teach the children in our care more about them:
Saint Mary Magdalene, intercede for us. You were the devoted follower of Jesus who knew His heart, pray that we might be as devoted and loyal. July 22
Saint Bridget of Sweden, ora pro nobis! May we be led by your great life example which is a testimony to bridging the ordinary world closer to the heart of God. July 23
Saint Charbel Makhluf, the great Lebanese Saint, who devoted his life to prayer and service. May his inspirations be our own; may the development of our inner life free us to make only good choices. July 24
Saint James the Apostle (and his brother, John) were called the "Sons of Thunder." May his zeal inspire us to always put God first, never forgetting that we can do nothing without God. July 25
Saints Joachim and Anne were the parents of Mary, and the grandparents of Jesus. May they watch over all wonderful grandparents, who, like them, quietly and steadfastly support their children and grandchildren. July 26.
Saint Martha, a woman of action and deep belief, help us to see the ways of God more clearly as we go about our daily obligations. July 29
Saint Ignatius of Loyola, your Spiritual Exercises have led millions to Christ Ad majorem Dei gloriam "for the greater glory of God." Intercede for us, that our inner lives be always centered on Christ Jesus. July 31
We call upon your great Saints, O Lord, as we strive to do your will. Give us the strength and grace, through their intercession to embrace only your ways.
This article is not part of your continuing training. To access your required bulletins you must log in using the form in the upper left-hand corner of the screen. Then go to the TRAINING tab.