Checking Off a Different Kind of Christmas List
"So, for Christmas, we'll have the chance to buy presents for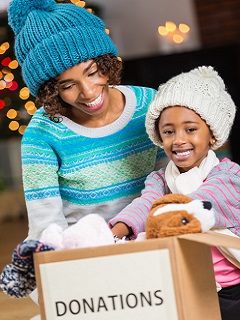 some kids who wouldn't get them otherwise", I recently tried explaining to my 5- and 3-year-old sons. "And, we get presents", the 3 year old promptly interjected. Cue parental lesson on generosity and how Christmas is a time to share our blessings.
As I've discovered with my own kids, it can be difficult to combat the "me, me, me" culture that surrounds us as soon as stores start advertising their Christmas toys and sales. At any age, of course, it is natural to be delighted by presents or even have a "wish list" (some of us may have these even as adults!). Yet, if we want to teach children in our care about Christ's birth as God's gift to the world, we may want to stretch ourselves to show Christ's love to others during the Christmas season.
I've seen so many creative ways that families practice generosity during Advent and Christmas, but here's just a few to get you started:
Consider those who are suffering in the cold weather: Together, check to see if you have coats to donate or can buy mittens and gloves to give away.
Bring the gift of joy to the lonely: The laughter of children can itself be a present! Volunteer as a family to visit a local nursing home or hospital.
Show others Christian hospitality: Who could you invite over for dinner who might appreciate the gesture or even become new friends? Perhaps share dinner with a new family at your parish or someone who has nowhere to go for the holidays.
Give gifts to a family in need: Your parish may have a "Giving tree" with tags on it to adopt a family for the holidays. This is a wonderful opportunity for kids to think about what other kids might like or need during a time when they are usually focused on their own Christmas lists.
Lend a helping hand: Especially during a winter break from school, find a project that you can help someone else with. Shoveling snow for an elderly neighbor, babysitting little kids for a mom and a dad to get a rare date night, and cooking meals for a fellow parishioner who is ill or suffering are much appreciated ways of showing Christ's love.
Sacrifice for the good of others: Encourage your children to consider giving some of their pocket money to a charity of their choice and/or going through their toys and books to give away to others.
Amidst all of the holiday parties and shopping, activities like the ones above help us refocus on Christ, the One who gave us everything that is good!
This article is not part of your continuing training. To access your required bulletins you must log in using the form in the upper left-hand corner of the screen. Then go to the TRAINING tab.