Blessings in the New Year
Ring out the old, ring in the new,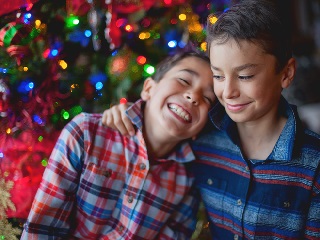 Ring, happy bells, across the snow:
The year is going, let him go;
Ring out the false, ring in the true.1
As we turn our calendars to the New Year, wouldn't it be nice to start fresh and let the old year and all of its challenges, disappointments and frustrations go? The best approach is to keep as treasure all of the joys and happiness that filled the year, letting go of all of the bad.
What does the process of letting go look like and how do you embark on this journey? Of course, the depth and complexity of the pain and hurt has much to do with the process, but there is one thing for sure, holding on to the pain that others caused you hurts you further. Letting go of it unchains you from pain. You may want to try this method from John Grohol, Psy.D.:2
1. Make the decision to let it go. Things don't disappear on their own.
2. Express the pain (vent, write it, etc.)-and address any part that's your responsibility.
3. Don't act the victim, and don't blame others.
4. Focus on what is happening here and now in the present. Focus on the joy!
5. Forgive them, and yourself, too.
The process of letting go is a conscious decision that you make for yourself as a gift to yourself. While revenge may be appealing, it diminishes you to the level of those who have hurt you. You become something you are not, and that is never good. Choosing good, rising above, striving to be the best person you can be, includes forgiveness and compassion. Pope Francis stated: "Christians must be strong and let go of all the bitterness and negativity that prevent them from experiencing God's consolation and joy."3
May this New Year find you open to the joy, love and peace that only God can provide.
References:
1. Alfred Lord Tennyson. In Memoriam, [Ring out, wild bells].
2. John M. Grohol, Psy.D. Learning to Let Go of Past Hurts: 5 Ways to Move On https://psychcentral.com/blog/learning-to-let-go-of-past-hurts-5-ways-to-move-on/
3. Pope Francis. December 17, 2011. https://www.ncronline.org/news/spirituality/francis-chronicles/pope-let-go-grudges-stop-whining-find-joy-jesus

This article is not part of your continuing training. To access your required bulletins you must log in using the form in the upper left-hand corner of the screen. Then go to the TRAINING tab.