Stabat Mater Dolorosa: Stood the Mother Full of Sorrow
By Paul J. Ashton, Psy.D., D.Min.
Consultant to the VIRTUS® Programs
---
Let me share with thee His pain,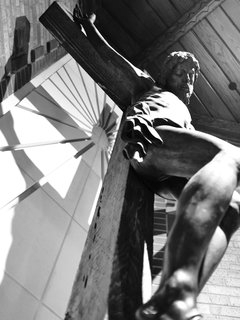 who for all my sins was slain,
who for me in torments died.
There is an ancient hymn in the Church that is familiar to almost everyone—the Stabat Mater—that transcends time and generations. It is considered one of the greatest Latin hymns of all time and it is based upon the prophecy of Simeon that a sword was to pierce the heart of His mother, Mary (Luke 2:35). The hymn originated in the 13th century and has been attributed to Pope Innocent III (d. 1216), St. Bonaventure, or more commonly, Jacopone da Todi (1230-1306), who is considered by most to be the real author. Many of the great musicians have set this beautiful poetry to music, including Palestrina, Dvorák, Josquin des Prés, Pergolesi, and Rossini, to name just a few ("Stabat Mater" The Catholic Encyclopedia).
It is most often sung at communal celebrations of the Stations of the Cross and its haunting, plaintive melody fills your heart and soul with the sadness that only a mother could experience while watching her son be tortured. Holy Week is an intimate time for Christians. While the temptation is to run away and hide from the memories of this difficult week, we know that our place is with Jesus and His Sorrowful Mother. The agony and pain that Jesus endured physically and mentally was all for love of us and it upsets and embarrasses us to remember it. It even angers us to think He should have endured such cruelty. We never wanted it to happen, we hate that it did, and we feel guilty that we even had any part of it.
When those we love go through difficult times, they need us the most. At the same time, they push us away, not wanting us to participate in or see their suffering. Jesus had no choice. His pain and suffering was laid bare for all to see in a most humiliating way, and He never once fought back. He is the model for Love like no other, and we can barely see ourselves as worthy.
As we begin this Holy Week, we enter into another pilgrimage with Jesus and experience His passion and suffering. It brings us closer to Him and to ourselves to walk this painful journey. No one more than Jesus' own Blessed Mother can mediate these feelings so perfectly, courageously and with such grace and dignity.

And so it might be helpful for us to pray this song of Mary's sorrows this Holy Week. Together, and with her, we remember Jesus' Love for us and how it helps transcend any pain we encounter on our own journey. You might like to "Google" the hymn and listen along with one of the beautiful renditions of the song.
At the Cross her station keeping,
stood the mournful Mother weeping,
close to Jesus to the last.
Through her heart, His sorrow sharing,
all His bitter anguish bearing,
now at length the sword has passed.
O how sad and sore distressed
was that Mother, highly blest,
of the sole-begotten One.

Christ above in torment hangs,
she beneath beholds the pangs
of her dying glorious Son.
Is there one who would not weep,
whelmed in miseries so deep,
Christ's dear Mother to behold?
Can the human heart refrain
from partaking in her pain,
in that Mother's pain untold?
Bruised, derided, cursed, defiled,
she beheld her tender Child
All with bloody scourges rent:
For the sins of His own nation,
saw Him hang in desolation,
Till His spirit forth He sent.
O thou Mother! fount of love!
Touch my spirit from above,
make my heart with thine accord:
Make me feel as thou hast felt;
make my soul to glow and melt
with the love of Christ my Lord.
Holy Mother! pierce me through,
in my heart each wound renew
of my Savior crucified:
Let me mingle tears with thee,
mourning Him who mourned for me,
all the days that I may live:
By the Cross with thee to stay,
there with thee to weep and pray,
is all I ask of thee to give.
Virgin of all virgins blest!,
Listen to my fond request:
let me share thy grief divine;
Let me, to my latest breath,
in my body bear the death
of that dying Son of thine.
Wounded with His every wound,
steep my soul till it hath swooned,
in His very Blood away;
Be to me, O Virgin, nigh,
lest in flames I burn and die,
in His awful Judgment Day.
Christ, when Thou shalt call me hence,
by Thy Mother my defense,
by Thy Cross my victory;
While my body here decays,
may my soul Thy goodness praise,
safe in paradise with Thee. Amen.
(From the Liturgia Horarum. Translation by Fr. Edward Caswall (1814-1878) See original Latin here)
This article is not part of your continuing training. To access your required bulletins you must log in using the form in the upper left-hand corner of the screen. Then go to the TRAINING tab.