Our Lady of Lourdes
February 11 marks the celebration of the feast Our Lady of Lourdes. It commemorates the date of the Blessed Virgin Mary's appearance to a young peasant girl,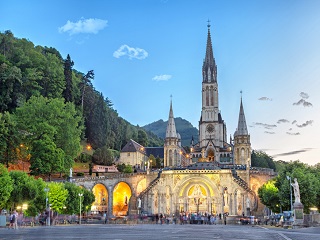 Bernadette Soubirous. In 1858, in Lourdes, France, the Mother of God chose this poor, young, simple girl, to impart a series of private revelations through which Mary revealed herself to Bernadette as the "Immaculate Conception."

Everything about Lourdes and Saint Bernadette is purely and beautifully simple. The most crucial ingredient to the place and narrative of Bernadette is Faith. And it is for her great Faith that Bernadette suffered much ridicule. People didn't believe her, nor did they believe in the healing powers of the spring waters of Lourdes, which the Blessed Mother revealed to Bernadette. Since then, millions have gone to this beautiful shrine, and countless have been healed by their own Faith.
I had the honor of making the pilgrimage to Lourdes not long ago, and marvel still at the enormity of the simplicity and the magnitude of reverence there. It was profound and humbling to be a part of the procession of a poor pilgrim people in search of the healing powers their loving God. God's gift to us of Mary cannot be matched. The fact that our beloved and blessed Mother chose Bernadette, a young, not so educated, poor and simple person, gives much for us to think about when we struggle to find right answers in the sophistication of the resources at our fingertips. The answers from our good and loving God have always been found in the pure and simple. We humbly pray in Saint Bernadette's final words:

"Blessed Mary, Mother of God, pray for me. A poor sinner, a poor sinner."
This article is not part of your continuing training. To access your required bulletins you must log in using the form in the upper left-hand corner of the screen. Then go to the TRAINING tab.