Through this Easter, Until the Next
We worship you Lord, we venerate your cross, we praise your resurrection, through the Cross you brought joy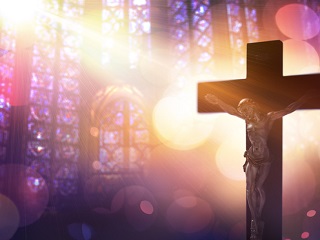 to the world.
—An excerpt from the Veneration of the Cross; Good Friday Liturgy

Alleluia! Alleluia! Alleluia! He has Risen as He Said! What great and wonderful news the Easter Alleluia heralds each year! The power of death is vanquished, and eternal life is ours forever! The message of Jesus is: Rejoice with me, now I live forever!
The message of the Cross is no longer pain and suffering, but joy and victory. While this message is vivid for us each Easter, its meaning is intended to remain with us throughout the year when the problems of our daily lives seem so far away from the glories of Easter.
Life can be burdensome and difficult on many levels. The challenges presented via our health, stressors and daily obligations can often be overwhelming. We may sometimes feel overpowered and lost.
The movement through Holy Week from Passion Sunday, Holy Thursday, Good Friday, Easter Vigil and the story of Jesus' passion, suffering and death is something to which many of us relate. Our lives are marked by joys and sorrows, ups and downs, the ebb and the flow. When the difficulties come, we rely on God's power deep within us which sustains us through rough patches. Our Faith, rooted in the resurrection of Jesus, saves us from deeper pain and helps us to make sense of the troubles which come our way.
No matter how far we are from the next Easter in our lives, we can immediately connect through our weekly Sunday liturgy which is united directly to Easter, and helps us reconnect to the great message of Jesus' love. Never discount your participation at weekly Mass. It sustains you in times of trouble and fills you with joy.
This article is not part of your continuing training. To access your required bulletins you must log in using the form in the upper left-hand corner of the screen. Then go to the TRAINING tab.