Passion Sunday & Holy Week
O what could my Jesus do more,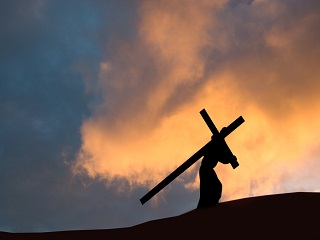 Or what greater blessing impart,
O silence my soul and adore
And press Him still nearer my heart.1
The simple, but beautiful lyrics to a song said to have been Saint Theresa of Calcutta's favorite hymn sum up our loving relationship with Jesus especially during Holy Week.
During Holy Week, we recall the gruesome and barbaric acts aimed toward our loving Lord and Savior—the worst of what humankind is capable of, rendering a situation that seems helpless, fearful and miserable. While we are shamed by those horrible acts some 2000 years ago, one might think that we would have learned a great lesson. But, the divisions and tensions in humanity still exist. All across the world people are faced with the same types of horrible acts each day. They fight against hunger, poverty, war, discrimination and alienation constantly.
Yet, similar to the time of Jesus, there are those with many choices spread out for them on the banquet of life. The injustice of the Cross was ended by Jesus through his resurrection, but the work to make the rest of it right remains ours to do. We must take up the Cross and fight injustices wherever and whenever we find them. This Holy Week is a good time for each of us to examine what part each of us plays in the Passion of Jesus. May we strive to bring passion to our work to end injustice each day. And may the great blessing that Jesus imparts take deep root in our hearts. Jesus empowers us and the Cross propels us forward.
"May the Passion of Our Lord, Jesus Christ, be always in our hearts."—St. Paul of the Cross
Reference:
1. "O What Could my Jesus do more." Author unknown. Retrieved from St. Basil's Hymnal from St. Michael's College, Toronto. 1896.
This article is not part of your continuing training. To access your required bulletins you must log in using the form in the upper left-hand corner of the screen. Then go to the TRAINING tab.