Mother's Day and Our Mother of Sorrows
Holy Mary, Mother of Sorrows, may we follow your example and stand by all of your children who need comfort,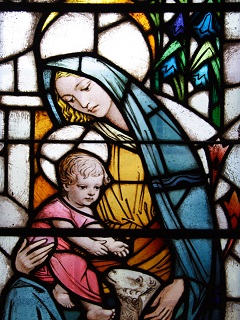 protection and love.
—Excerpt from the Prayer to Our Lady of Sorrows, author unknown
May is the time for spring rejoicing, and celebrating rites of passage such as First Communions, Weddings, Confirmation and graduations. It is also a special month to honor all the mothers in our lives and our Blessed Mother.
Honoring our earthly and heavenly mothers is most fitting. The Mother of God guides every mother and each of us to her Son, Jesus, whose love empowers us throughout our lives. While there are many titles and traditions honoring the Mother of God, we focus now on Mary, Mother of Sorrows. Her sorrows as the mother of Jesus were many, and her great "yes" to God echoed in many heroic acts throughout her life. It is to her that all mothers go when faced with the pain in their own lives and those of their children. It is the heart of Our Mothers of Sorrows where we find peace and refuge from our burdens. She offers us all understanding and comfort, and it is her true motherly love that points to her Son for the ultimate healing of all wounds.
The Marist Brothers, who taught me in high school, had a profound and exemplary devotion to Mary. "To Jesus through Mary" was the theme they gently echoed in their work with us. In a real way, we were shown the path to Jesus by devotion to His mother, and through respect for our own mothers we learned the way to peace and justice.
May this Mother's Day bring us renewed respect for each of our mothers and the sorrows they have endured for us, and may we bring their needs in our prayers to Our Mother of Sorrows who heals all hearts.
This article is not part of your continuing training. To access your required bulletins you must log in using the form in the upper left-hand corner of the screen. Then go to the TRAINING tab.