Christmas Doesn't Come from a Store
Each year at this time, I take great care in unwrapping the nativity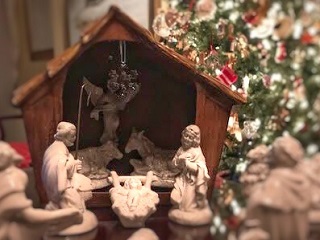 set that my mother made for me in 1979 at her ceramic class. I thought it a nice gift then, but didn't appreciate it nearly as much until some 15 years later when she died of cancer. I have treasured it all the more ever since. It is simple and beautiful, and I can't help but to cry each time I arrange the pieces. It was a gift of love for certain. When I look at the pieces I imagine her painting, preparing and firing each piece, and laughing with her friends in the class. Touching each piece connects me to her instantly and I become a son again—a feeling that does not come readily as the years march forward. It is my greatest treasure, and I take precious care to wrap, pack and store it each year. It represents so much more than its value, and no one in the world can appreciate it as much as I do. I think about this sometimes, and how silly it might appear to others if I told them about how I am attached to a 19-piece set of 1970's ceramics. I sometimes feel embarrassed, and berate myself for such sloppy sentiment. I think sometimes it would be more acceptable to talk about an attachment to a fancy watch, car or prized box seats at Fenway. But no such luck for me.
I once left the set out for a whole year. But I was embarrassed when the questions came, and that my grief was so evident and vivid. I was criticized another time by a religious friend for having the nativity set displayed so soon before Christmas because it was still Advent—but I didn't let the shame deter me that time. It brought me comfort.
"Maybe Christmas, the Grinch thought, doesn't come from a store." Dr. Seuss said. He was right. Christmas comes from the heart to the heart. Its power dispels darkness, overcomes evil and conquers death. Christmas is a love that is enduring and everlasting. May you find the Love you seek burning bright this Christmas, now and always.

This article is not part of your continuing training. To access your required bulletins you must log in using the form in the upper left-hand corner of the screen. Then go to the TRAINING tab.