Starting Anew
Another opportunity is upon us to start fresh, to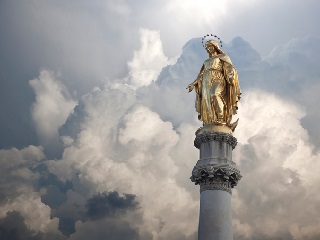 begin anew and to launch another year with a clean slate. The Church wisely begins the New Year by honoring Mary, the Mother of God. As the Mother of Jesus, she devoted her life to His care, and never ceased her duties as Mother to generation after generation of her devoted sons and daughters.
As Mother, she watches, guides and protects us, and it is proper to begin the year asking her blessings upon us as we move through 2018.
Mary, comforter of all in need, we come to you to ask your intercession to God on our behalf. We are in need of your continued love, to inspire us to be creative persons to find solutions to the problems in our lives and in our world. We need your blessings so that we might have the fortitude to never give up, and to always seek the right way to accomplish the tasks set before us. Hear our prayer, O sweet Mother of God, and grant us our requests, as we proclaim your goodness.
Mary, Forbearer of all peoples, hear our prayer.
Mary, Comforter of those who are hopeless, soothe our hearts.
Mary, Sweetness in the midst of sarcasm and distrust, strengthen our resolve.
Mary, Strength for the ages, fortify our resolve.
Mary, Counselor of those who seek answers, guide our minds.
Mary, Hope for the despairing, soothe our doubts.
Mary, Leader out of the darkness, lighten out paths.
Mary, Affirmer of our talents, inspire our creativity.
Mary, Guide to the lost, point out the way.
Mary, Parent to children who are ill, suffering and challenged, be our surety.
Mary, Source of courage, raise our spirits.
Mary, Mother of Love, never forget us!
Thank you, O Holy Mother of God, for saying "Yes" to all that God asked of you, and for accepting the role of our loving, kind and generous Mother. We start this New Year confidently under your loving and watchful care. Amen.

This article is not part of your continuing training. To access your required bulletins you must log in using the form in the upper left-hand corner of the screen. Then go to the TRAINING tab.