Teen Driving: A Checklist for Caring Adults to Model
Driving a car is a rite of passage—whether it's a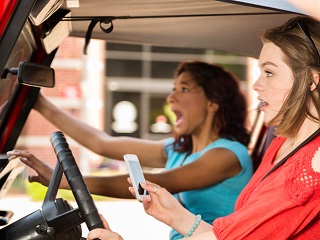 16 year old showing off her new license or a highschool graduate receiving the generous gift of a new set of wheels. This milestone will always be exciting, but it can also be a bit frightening for parents and adults who love their teens.
Statistics tell us that 16-19 year olds are four times more likely to get into a car accident than any other demographic. In fact, car wrecks are the leading cause of death among teenagers.
So, how can we actually keep them safe?
Well, the truth is there will always be a risk anytime anyone gets behind a wheel. However, here are just a few items to add to your driving lesson checklist that may help reduce that risk:
Model safe driving behavior. Don't multitask while driving, observe traffic laws, and keep the phone tucked away. "If my parent does it, why can't I?" is most certainly a common thought among teenagers with new-found liberty.
Prioritize vehicle safety when purchasing a car. You don't necessarily need to buy a new, expensive car, but you should check crash ratings for cars within your price range as well as what cars have the best advanced safety equipment. You can check ratings here.
Don't skimp on the practice driving hours. Spend time in the passenger's seat with your teen, perhaps even exceeding what the state requires. Give their driving your full attention so that you may offer guidance when required.
Reduce the texting temptation. Advise them to put their phone in the center console or tucked away somewhere else where texting won't be a temptation.
Set boundaries about times and distances they can drive. Remind them that they should always call you or someone else if they are unable to drive for any reason—even if it's something that they're scared could get them into trouble, such as alcohol consumption.
This article is not part of your continuing training. To access your required bulletins you must log in using the form in the upper left-hand corner of the screen. Then go to the TRAINING tab.