The Effects of Family Dinner on Kids' Health
There are so many benefits of family dinner—some of which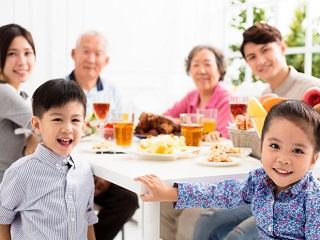 we have enumerated here in previous articles. Family bonding, increased communication with the kids in your care, and an opportunity to pray together are just a few of them.
Yet, did you know that eating dinner together also has a proven positive effect on your children's health? One study shows that eating just three meals together per week reduces a child's chances of being overweight by 12%. It's easy to think of a few reasons why. Kids are more likely to learn to eat vegetables when modelling parents and older siblings sitting at the table with them. Eating at regular times together reduces snacking too frequently, often on foods with high calories and low nutritional value. And, of course, if you're sitting and eating dinner at the table, chances are you're not eating fast food as much, which certainly can put you at risk for obesity.
The same study shows that adolescents are 35% less likely to develop eating disorders! Eating together with their family meant that teens were less likely to be engaging in "bingeing/purging, abusing laxatives, and skipping meals to lose weight."
We know as Christians that "breaking bread" together is important. After all, one of Jesus's miracles was multiplying food so that people could eat together. The Eucharist was even instituted at the Last Supper that Jesus ate with his disciples. It's no surprise then, that family dinners are not only important because of the relationships they forge, but also because of the clear health benefits to sitting down regularly to eat a well-rounded meal.
This article is not part of your continuing training. To access your required bulletins you must log in using the form in the upper left-hand corner of the screen. Then go to the TRAINING tab.