Celebrating Grandparents
We celebrate the Memorial of Saints Joachim and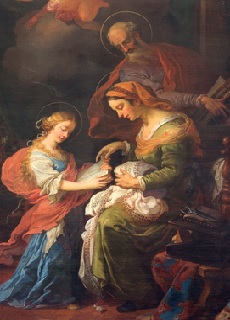 Anne, Parents of the Blessed Virgin Mary, on July 26 each year. In many parts of the world this is Grandparents Day; for us Grandparents Day is celebrated on Sunday, the 9th of September this year, and on the first Sunday in September after Labor Day each year forward.
Knowing Mary as we do, we can only image the wonderful parents that Saints Anne and Joachim were for her. Jesus was certainly blessed to have both Mary and her wonderful parents as influences in His life. The role of grandparents in the life of children is indeed a great blessing.
Pope Francis spoke eloquently to the role of grandparents in Rio de Janeiro, on July 26th, 2013, at World Youth Day:
Today the Church celebrates the parents of the Virgin Mary, the grandparents of Jesus, Saints Joachim and Anne. In their home, Mary came into the world, accompanied by the extraordinary mystery of the Immaculate Conception. Mary grew up in the home of Joachim and Anne; she was surrounded by their love and faith: in their home she learned to listen to the Lord and to follow his will. Saints Joachim and Anne were part of a long chain of people who had transmitted their faith and love for God, expressed in the warmth and love of family life, down to Mary, who received the Son of God in her womb and who gave him to the world, to us. How precious is the family as the privileged place for transmitting the faith!
Speaking about family life, I would like to say one thing: today, as Brazil and the Church around the world celebrate this feast of Saints Joachim and Anne, Grandparents Day is also being celebrated. How important grandparents are for family life, for passing on the human and religious heritage which is so essential for each and every society! How important it is to have intergenerational exchanges and dialogue, especially within the context of the family.
May Pope Francis' words ring in our hearts as we celebrate the grandparents in our own lives this year.
This article is not part of your continuing training. To access your required bulletins you must log in using the form in the upper left-hand corner of the screen. Then go to the TRAINING tab.