Quick Home Safety Checklist
Whether you're a parent of active kids, or a grandparent or a caring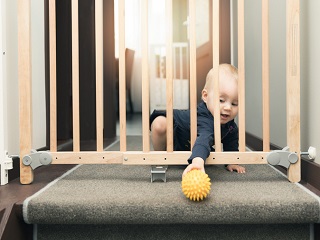 adult, there a few important things that you can do to make your home or ministry environments safer.
Take a look at the following list and see if there is anything you can do to reduce the risk of a child getting injured while in your care.
Windows: Are they locked and not easily tampered with? Over 3,000 children are injured from falling out of windows each year.
TV and Large Furniture: How is your furniture secured? Is there any chance it could tip over on top of a child who has decided to take a dangerous climb? Bookcases are one example of furniture to secure to the wall! With over 22,000 children seen in the ER annually for these incidents, securing furniture is an important precaution. Check here for how to secure furniture correctly.
Button batteries: Keep these type of batteries far away from children! Ingesting these batteries can cause irreparable damage to the esophagus and button battery accidents comprise 84% of all battery-related ER visits.
Cribs, playpens and bedding: With young children, the risk of suffocation is very real. Be sure that young children's sleeping arrangement follows the safety guidelines found here.
Toys: While toy-related accidents are never completely unavoidable (what child hasn't fallen off a bike?), there are several risks to be aware of including: checking for broken parts, being sure it hasn't been recalled, and double checking that the toy is age-appropriate.
Of course, there are other risks in the home, such as poisonous substances like those found in cleaning products that you'll also want to consider when kids are in the house. However, this quick list provides a solid launching point for ensuring that accidents are avoided.

This article is not part of your continuing training. To access your required bulletins you must log in using the form in the upper left-hand corner of the screen. Then go to the TRAINING tab.