Ghouls and Saints
There have long been debates about whether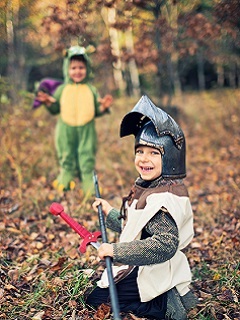 Catholics should celebrate Halloween. At first glance, the "demon and evil spirit themes" literally scare people into thinking it is not of God. Closer examination and research, however, have lots to say about its origins, and most articles and documents end up by stating that God's triumph over evil is the important theme here celebrated on "All Hallows Eve", the night before All Saints Day (November 1st).
The fall is a time of gathering the harvest. The darkness that comes earlier in the night accompanied by falling leaves, full moons and the coolness of autumn lends itself well to scary (and sometimes humorous) faces carved into brightly illuminated pumpkins that light the path to doors festooned with spider webs and hanging skeleton decorations. Behind the doors are usually happy adults waiting to fill bags, sacks and plastic pumpkins with miniature versions of every candy known to man (and women.) Finding the harm can be very easy for many. The bottom line is that God always shines light in the darkest places.
Many communities have parties for children and adolescents where they dress as saints, but even then, the theme of the beheading of John the Baptist can be a bit much. Creativity, imagination, laughter, smiles, silliness—these are the hallmarks of a child who has a solid foundation and a strong family base where they are free to imagine and create without fear. For those children who are victimized, imagination and creativity are surrounded in a wet blanket of fear and dread.
I remember well my first year of teaching where my eighth grade class were big brothers and sisters to the 1st graders. The 8th graders taught the 1st graders songs, made a party for them and helped them create all kinds of costumes. I hear them all singing the tune "We are here to s-c-a-r-e you!!" vividly this time each year. They did their best to make scary faces and act it all out, but it all ended up in laughter and fun enjoyed by the parents and teachers who came to see their "saints" perform. Laugh, smile, enjoy. Indeed.

This article is not part of your continuing training. To access your required bulletins you must log in using the form in the upper left-hand corner of the screen. Then go to the TRAINING tab.