A Saint for Social Justice
Being put down, shunned and pushed aside is a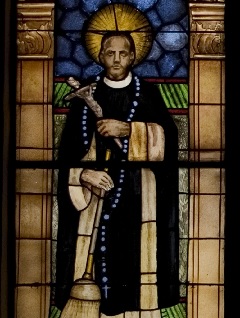 struggle that men and women go through in every age and in every generation. When it happens to young children and adolescents, it is worse, because their defenses are fewer. We are all human and prone to vulnerability—it is quite a shame that people hurt others, bully them and put them down knowing full well but for God's grace there we would be.
Saint Martin de Porres, born in Lima, Peru, was the son of a Spanish gentleman and a freed female slave (of African or Native American descent) from Panama. Martin, his mother and sister were abandoned by his father, and struggled in poverty. He suffered prejudice and was ridiculed for being of mixed race. Peruvian law did not allow descendants of Africans or Indians to become full members of religious orders.
This did not stop Martin from praying his way into the order of Dominicans of Holy Rosary Priory in Lima, who first accepted him as a volunteer. Eventually, Martin was granted the privilege to take his vows as a member of the Third Order of Saint Dominic by the prior Juan de Lorenzana who decided to disregard the law that restricted Martin based on his race.
Despite the horrible prejudices he faced and dealt with throughout life, he clung fast to his deep call to serve the poor and ill, whom he treated with great dignity without counting the cost to himself. He was widely known for his kindness and care for those in need, and is certainly a forbearer in social and racial justice, who paved the way for others to carry out the Gospel message in peace.

Many follow the footsteps of Saint Martin, and continue his work silently, steadfastly, and with purity of heart not seeking publicity or fame or even a platform, blog or website. They simply do the work of God and move among His people spreading the same peace that Saint Martin did.
St. Martin de Porres was beatified by Pope Gregory XVI on October 29, 1837 and canonized by Pope John XXIII on May 6, 1962. We celebrate his feast day each year on November 3. His humility makes him truly a Saint for our times.

This article is not part of your continuing training. To access your required bulletins you must log in using the form in the upper left-hand corner of the screen. Then go to the TRAINING tab.