Always a Place at the Table
Gathering at the table on Thanksgiving Day (or at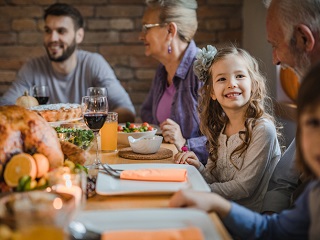 any event) can be a wonderful experience. The foods we eat and share, the family being together—all of it lends itself to hearts brimming over with gratitude. However, there are countless movies, books and jokes, that refer to the "nightmare" of getting together with family and relatives on holidays.
There are those who dread this particular holiday and say, "I can't wait until it is over!", mostly because they are responsible for the cooking, shopping, cleaning, serving and making sure everything is perfect. Friends and relatives show up with a covered dish or pie, but let's face it: the burden of hosting any dinner is most stressful. Many of these heroes will say after it is over, "Oh, I love doing it!" There are others, still, who simply are alone and forgotten. For them it is just another day. Their relatives are all gone, or far away, and they just are not part of anyone's table.
A good priest friend of mine has a motto of "everyone always has a place at the table." He lives that, and I have seen him many times welcome those most in need of understanding and forgiveness at his table. He organically welcomes them with laughter and hospitality that is outstanding.
Let us pray…
O God, giver of all things, creator of the universe, supplier of all bounty, fill our hearts with a Love this Thanksgiving that encompasses all. Give us courage to reach out to those who need us the most. Give us eyes to see the needs of others, and a blinding light to the defenses they raise to our outreach. Make us worthy of the great gifts you have bestowed upon us, and please, dear God, empower us with hospitality that we may find a place at our table for those who will benefit most. Thank you for all you have bestowed on us. Amen.


This article is not part of your continuing training. To access your required bulletins you must log in using the form in the upper left-hand corner of the screen. Then go to the TRAINING tab.