The Wonder of Christmas
The wonder of Christmas melts the hearts of women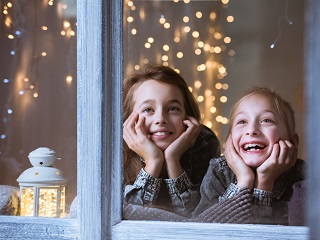 and men each year opening them up to memories of childhoods filled with warmth, love, kindness and caring. For many of us, it is a time to re-create the happiness that once was our childhood. Favorite candies and foods made by our loving parents and grandparents, or local shops that created special treats make us smile upon the thoughts of these delights. We can taste and smell them through our memories. The world always seems smaller at Christmas. If you are lucky to have snow, then that world becomes smaller yet. The white innocence of snow unites streets and neighbors by blanketing everything universally.
Simplicity. White candle lights in windows illuminating the streets; multicolored blinking lights festooning shrubs and trees all make us cheery in the otherwise darkness of winter. A piece of homemade fudge, tasty eggnog, buttery turkeys, songs of old, gifts, ribbons, decorations, trees, wreaths—all traditions to welcome the infant Jesus each year.
Say what you want about commercialism; argue the truer meaning of the season, do what you will—but it all adds up to Jesus. He is the ultimate reason for our joy each year at this time. Good deeds, seasonal promotions, sales, shows, gimmicks all decorated for the season covered and shrouded in a thousand motives, all have their root in Jesus—who always prevails. Each and every year "good" wins. Goodness overcomes. Hearts melt. Sadness turns to joy. The darkness is always overcome by even the smallest twinkling light. Jesus comes! We wait. We try. We try again. We are all the better for it, for Him, who comes to save us, love us and show us the way. We may not have it all right yet, but He comes!
A Blessed and most Merry Christmas to each of you and your loved ones!

This article is not part of your continuing training. To access your required bulletins you must log in using the form in the upper left-hand corner of the screen. Then go to the TRAINING tab.