St. John Bosco: A Heart for Youth
St. John Bosco is a patron saint of youth because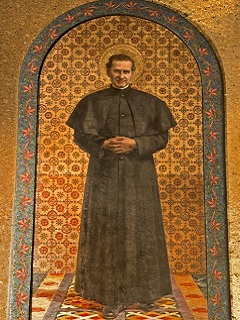 of the great heart that he had for young people, but he is also an exemplary model for teachers and others who minister to youth. He dedicated his life, and later started the Salesian order, to provide education, catechesis and care for children who needed it most.
Born in 1815, in Sardinia, Don Bosco started to discern a vocation to care for young people when he was no more than a child himself. He was fairly poor, but his mother modeled charity and generosity in always providing for those less fortunate than them. Starting at age 9, he began to have a series of vivid dreams wherein he was asked to care for and educate young people. In addition, he was enthralled by performers and learned to combine entertainment with an invitation to people to learn more about the Faith. These moments, as well as his increasing love for Christ and His Church led John to say yes to a priestly vocation; he was ordained in 1841.
His particular ministry with young people began when he met an orphan boy in Turin and prepared him to receive his first Holy Communion. He then served in a variety of capacities caring for children-teaching catechism to apprentices, working as a chaplain in a hospice for girls and, ultimately, starting the Oratory of St. Francis de Sales.
At the Oratory, he began workshops for boys, focusing on shoemaking and tailoring. The Oratory eventually added a printing press and was serving 150 boys by 1856! It was then with the Pope's support that St. John Bosco began the Salesian order in 1859, which focused on education and mission work. He eventually formed the Salesian Sisters to provide similar outreach to girls.
Today, St. John Bosco is the patron saint not only of youth, but also of editors, juvenile delinquents, magicians and apprentices, the fruit of a life lived creatively in love with the Lord and the Gospel. His feast day is January 31. St. John Bosco, pray for us!

This article is not part of your continuing training. To access your required bulletins you must log in using the form in the upper left-hand corner of the screen. Then go to the TRAINING tab.