Yes, Winter Coats Can Be Dangerous
Did you know that bulky coats and car seats are a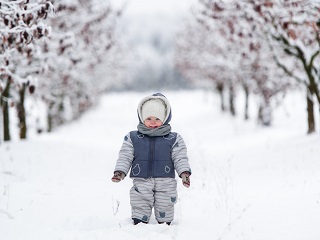 dangerous combination? Crash tests demonstrate that when kids wear thick winter coats in car seats, they are at greater risk of injury during a car crash. Car seats are designed to fit snugly in a way that keep children secure and protect them upon impact. Bulky coats change the dynamics of the way harnesses fit—creating an extra space between the child and the seat. This insecure fit could result in a child coming loose from the car seat or getting hurt when a car crashes.
As a caring adult, what can you do to ensure children in your care are safe and warm?
As a general rule of thumb, a coat worn in a car seat should be no thicker than a sweatshirt. Not sure if a coat is the right thickness? Check out this video for a simple test you can do.

Dress infants appropriately for indoors. Load them into their "bucket-type" car seat indoors and give them a warm hat and cover them with a blanket to bring them out to the car. Once the car is warm, remove the blanket and replace it when you arrive at your destination for the next trek into the cold.

Toddlers and older kids can also use blankets, or they can be secured in their car seat and then wear a coat backwards on top of the harness.

If you, or a relative or friend is particularly crafty, you can even consider making a car seat poncho. Look up tutorials online for a safe and comfortable solution in the winter months! (Or, purchase one from the many online retailers.)
Keeping children safe in the winter months is worth the extra effort! As the winter draws to a close, take this opportunity to check how you can more effectively keep them warm and secure during car rides.
This article is not part of your continuing training. To access your required bulletins you must log in using the form in the upper left-hand corner of the screen. Then go to the TRAINING tab.