Love as a Verb
At this time of year, when the cold and snow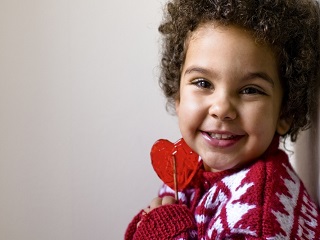 make February seem much longer than it is, many hearts turn to the customs and traditions of Saint Valentine's Day to let those they love in their lives know of their fondness and care for them.
Stores are awash with red hearts and cupids, red roses and delicious chocolates, and any number of promotions to lure those in love to make purchases for their "Valentine." Love is in the air and the message is everywhere.
For those who have lost their loved ones, this time of year is difficult. For those who have not yet found their one true love, it may be even more challenging as the pressure is on to celebrate with the perfect valentine. What is most important, no matter where you are on the journey of love, is to remind yourself of the true meaning of being in a loving relationship.
So many think of love as a feeling and associate it with warm fuzzies. For those who are truly in love, however, love is best experienced as a verb. It is more about action than about the warm and wonderful feelings that accompany it.
Operating with love as a verb makes relational life easier. To love someone is to be compassionate. It is also to be passionate. Love means forgiveness, acceptance, remorse, sorrow, joy, mercy, happiness, commitment, loyalty, respect, admiration, trust, honesty, truth, understanding, thoughtfulness, caring, devotion and tenderness. You get the idea. You can't be in love and have all of the whooshy gooshy feelings all of the time. Love takes work. Love is verb. This Saint Valentine's Day celebrate in style with the verb Love!

This article is not part of your continuing training. To access your required bulletins you must log in using the form in the upper left-hand corner of the screen. Then go to the TRAINING tab.