The Way of the Cross: Uniting with Victims of Abuse
Each Lent, as a Church we pray the Way of the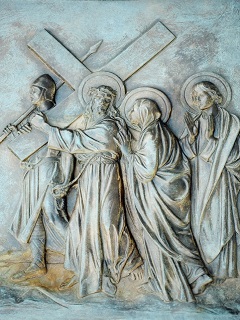 Cross. Why? What good does it do to walk, step-by-step, through the suffering Christ endured on the Way to Calvary?
First, it helps us recognize the suffering Christ endured for our sins and, hopefully, encourages us to repent. Second, it empowers us to condemn sin and evil in all forms. Third, it helps us to unite our prayers to those who are suffering and stand alongside them.
In a particular way, we can pray for victims of abuse by praying the Stations of the Cross. In a letter Pope Francis wrote to the universal Church last year, he reminded us of the passage of Corinthians: "If one member suffers, all suffer together with it" (1 Cor 12:26). This pain that victims have suffered and continue to endure is a Cross which we all can help to carry.
Along with asking that all people condemn abuse and seek measures to ensure the protection of children, Pope Francis asked that we take on "penitential exercise of prayer and fasting" for the grievous crime inflicted upon victims.
We have the opportunity to walk in the footsteps of Christ in the Way of the Cross by willingly sharing in the suffering of others.
If you haven't already, consider praying the Stations of the Cross at your parish or at home. During Holy Week, remember those who are suffering because of the sins of others. Pray that they will experience hope and healing, specifically when we celebrate the Resurrection of Christ at Easter.

This article is the copyrighted property of National Catholic Services, LLC. All rights reserved. For permission to redistribute, please communicate with: editor@virtus.org
This article is not part of your continuing training. To access your required bulletins you must log in using the form in the upper left-hand corner of the screen. Then go to the TRAINING tab.