Talking Drones: A Child Safety Concern
Programs have been established for both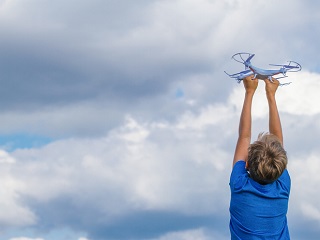 adults and children to become more aware of the subtle ways unsafe adults, and older youth, may attempt to lead children into unsafe situations. The ever-changing field of technology is one that we, as caring adults, must consider when it comes to the myriad of strategies unsafe adults may utilize. The attraction of any device that is technology-related mesmerizes children into many hours of entertainment. Caring adults do have the option to modify the devices a child may use so as to block the possibility or opportunity for a child to be exposed to inappropriate material and unsafe, online people. One of the newest distractions that adults and children need to be informed about is the technological danger in the sky—that is: talking drones. This Washington Post article highlights the danger posed to children by a drone in Georgia that attempted to distract them away from a playground.
Talking drones seem like science fiction, but are very accessible pieces of technology. Imagine this scenario outlined in the article: Having scoped out an area where children may be playing, such as a school or a park, the drone swoops down and captures a child's curiosity. Intrigued by this suspended object that keeps talking to the child, the child answers and innocently follows the drone into an area where the child is then isolated from others. Simultaneously, the drone is not only capturing the child's attention by flying, a mysterious voice is also coming from the soaring object. As children are naïve by nature, they often have no idea that an adult or older youth might not have good intentions with the activity. The child's interest is piqued as the summoning, talking, floating object charms the child into a potentially dangerous encounter. Such a device can be so perplexing to the child, they forget the warnings they have been given about safe boundaries—which usually involve devices we hold, or people we know, or see in person.
If any of us operate a flying drone, we must be aware of how we interact with others, and how it could be distracting or harmful to children. Other scenarios could also arise, where children become distracted and follow drones into busy sidewalks, or worse.
As adults, knowing the possibility of something like this happening to a child is alarming. We cannot be diligent enough in staying updated on technology, and what features and uses could put the children we care for in danger. We must be cautious—looking around and even above. Together, we can make our communities safer for our children.
This article is the copyrighted property of National Catholic Services, LLC. All rights reserved. To provide constructive feedback, or request permission to redistribute, please communicate with: editor@virtus.org

This article is not part of your continuing training. To access your required bulletins you must log in using the form in the upper left-hand corner of the screen. Then go to the TRAINING tab.