Freedom
For you were called for freedom… But do not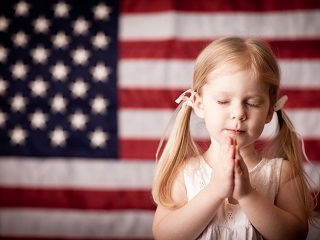 use this freedom as an opportunity for the flesh; rather, serve one another through love. For the whole law is fulfilled in one statement, namely, "You shall love your neighbor as yourself." —Galatians 5:13-14
Celebrating Independence Day is a wonderful time in the United States to gather with friends and family to honor the freedom won and maintained by courageous men and women throughout our history. These brave men and women sacrificed much and endured immense hardship to preserve the great gift of our freedom. The Catechism of the Catholic Church teaches that "Freedom is the power, rooted in reason and will, to act or not to act, to do this or that, and so to perform deliberate actions on one's own responsibility. By free will one shapes one's own life. Human freedom is a force for growth and maturity in truth and goodness; it attains its perfection when directed toward God, our beatitude." (CCC 1731)
As individuals created into being by God, we have free will to do as we please. Our choices form who we are and this affects our families, neighbors and communities. When many join together to choose good, many benefit. We are free because others care enough to protect our God-given rights. Doing good produces good, healthy and safe environments in which we can thrive. "The more one does what is good, the freer one becomes. There is no true freedom except in the service of what is good and just." (CCC 1733) As we celebrate our freedom this month, let us be mindful of our responsibility to always do what is good for ourselves and our neighbors. May we be ever mindful of the many good souls who gave their lives in the service of the great gift of freedom.

This article is the copyrighted property of National Catholic Services, LLC. All rights reserved. To provide constructive feedback, or request permission to redistribute, please communicate with: editor@virtus.org
This article is not part of your continuing training. To access your required bulletins you must log in using the form in the upper left-hand corner of the screen. Then go to the TRAINING tab.