How You Can Help with Peer Pressure
When it comes to peer pressure, it's important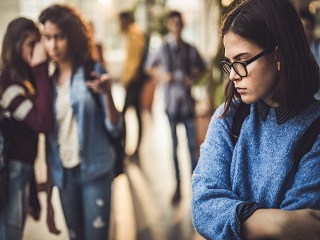 for youth to know what it is, how to say no, and that you are there for them.
It's a bit of a puzzle—just as kids are listening to other kids more, they most likely are looking to you for guidance a little bit less. Yet, while it may seem that your big kids don't want counsel, this is the time when they need support from a parent or caregiver. When it comes to peer pressure, it's important for them to know what it is, how to say no and that you are there for them.
As a caring adult, it can be easy to have our first reaction be judgmental when we hear about troublesome behavior among our kids' peers. "How could they ever do that?", you might say, "I can't believe 12 year olds would ever drink/be sexually involved/engage in illegal behavior," etc. While this is a normal reaction, it's worth taking a deep breath and first letting a kid know that you believe them and are listening to them. Always make your first step hearing fully what they have to say.
Second, give them the opportunity to tell you freely what they think about the behavior. By keeping communication lines between you open, they are more likely to tell you what is going and to express their discomfort with it.
Third, when they do share, tell them that they are always able to say "no" and that you are willing and able to come get them if they ever find themselves in an uncomfortable situation.
Finally, encourage them! Prompt them to think through what they really think about these various behaviors and to prepare what they would do if pressured to engage in misbehavior. You, and other caring adults, can give them valuable perspective that while they should value their friendships, they have a whole future ahead of them and they are laying the foundation for it now. At the same, if they do make mistakes, back them up as they decide to make stronger decisions down the road.
This article is the copyrighted property of National Catholic Services, LLC. All rights reserved. To provide constructive feedback, or for permission to redistribute, please communicate with: editor@virtus.org
This article is not part of your continuing training. To access your required bulletins you must log in using the form in the upper left-hand corner of the screen. Then go to the TRAINING tab.