Sticks and Stones and Name Calling
Did you know that the entire month of January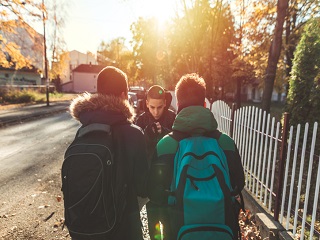 is recognized as "no name calling month?" The old adage "sticks and stones may break my bones, but names will never hurt me" is really rarely the case. One in three U.S. students report having been bullied. This, tragically, includes cyber bullying, which multiplies the effects of cruel words, exploitative photos and gossip by spreading them across the web.
The good news is that many parents and schools are working hard to prevent bullying in our society.
If you're considering a way to make an impact in your school, parish, or other organization where you guide and nurture children, consider a "no name calling week." Taking the time to focus on the power of words (for good or for ill), what bullying is, and how children can extend friendship to others, can make all the difference for those who have felt marginalized before.
Just a few topics to focus on include:
Bullying: Explain to students what it is and the impact it makes. Chances are, almost all children have felt bullied at some point. One activity could be asking students to close their eyes and raise their hands (or submit anonymous notes) if anyone has ever been cruel to them. Then, let them know how many people raised their hands (it will probably be most of them).
Random Acts of Kindness: Students should know that they have the power to make someone's day-and ultimately, a difference in someone's life. Challenge your class or organization to see how many random acts of kindness they can extend during this week.
Cliques: Especially in the middle-school years, discuss what sort of groups and the labels given to them ("cool kids"; "athletic crowd"; "nerds" etc.) affect your community. Ask students to brainstorm how they can have strong friendships without fostering exclusive cliques that dismiss others.
Think Before You Act: Most name calling can be prevented when young people take a moment to think about whether there is a better resolution than name calling. Encourage kids to think of alternative to name calling.
More resources can be found here.
This article is the copyrighted property of National Catholic Services, LLC. All rights reserved. To provide constructive feedback, or for permission to redistribute, please communicate with: editor@virtus.org
This article is not part of your continuing training. To access your required bulletins you must log in using the form in the upper left-hand corner of the screen. Then go to the TRAINING tab.