Summer Camps: Do We or Don't We?
By Caitlin Bootsma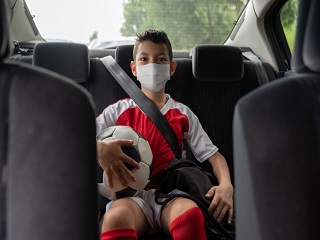 Like visiting playgrounds or any other public venues, sending kids to camp can be a difficult decision. There are always the typical, "traditional" camp concerns, i.e., we would assess the camp's screening procedures for adults, review their monitoring processes to ensure safety and reduce isolation, ensure the child has the ability to communicate with safe people, etc., and conduct our own due diligence rather than simply relying on them to tell us they're safe. This year, however, it is more difficult to discern the decision to send children to camp (even just partial-day camps), because it is pretty difficult for camps to keep children entirely socially distanced from one another. On the other hand, camp may be the best, or only, option for parents who need child care for work reasons and/or for everyone's mental health.
If you do decide to send the youth in your care to camp, a great first step for assessing the risk factor during the pandemic is familiarizing yourself with the CDC guidelines, which you can find here. You may also want to research state and local guidelines. Then, ask the camp directors (if they haven't already informed you), if they are adhering to these guidelines. And, for some concrete examples about how they are trying to mitigate risk.
Some things you should expect to hear include:
More rigorous hand-washing and disinfecting protocols
Smaller groups of campers that stay together and cycle through activities together, rather than large all-camp group activities
A cap on overall number of campers so that they meet the capacity guidelines of your state
Prioritization of outdoor activities
Enforced sickness policy wherein people who have been sick with COVID-19 or exposed to it observe the advised quarantined period before attending camp
Spacing and face coverings when possible, and age appropriate
Reduction in shared toys or materials
Individual snacks or meals, preferably sent in by each family
When your kids get ready for camp, you can remind them of all of the protocols the camp will have set in place, especially as some may be new or unfamiliar (for example, if the camp takes campers' temperature before entry). In addition, reminding them not to share food and to respect people's physical space is key. As caring adults, parents and caregivers, we are all striving to strike that balance between teaching the children (and adults!) in our care to stop the spread of the virus, while at the same time helping them to have a wonderful, fun-filled summer.





This article is the copyrighted property of National Catholic Services, LLC. All rights reserved. To provide constructive feedback, or request permission to redistribute, please communicate with: editor@virtus.org
This article is not part of your continuing training. To access your required bulletins you must log in using the form in the upper left-hand corner of the screen. Then go to the TRAINING tab.