New Ways to Enter into Fall
By Caitlin Bootsma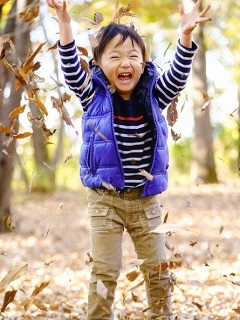 Fall brings a whole new set of opportunities for kids and adults to engage with the world around them and their faith.

When Fall rolls around each year, it often seems like an opportunity to start fresh: a new school year for the kids; the leaves' colors signaling a time for change and a new crisp breeze in the air. If you're a fan of Fall, here are just a few ways to enter into the season as a caring adult, or, also a parent.

Experience Nature: One of the silver linings of the ongoing pandemic quarantine is that many people have started to enjoy the outdoors more. Getting into nature (while still social distancing) remains a safe and healthy option—one with plenty of possibilities to explore. Consider taking:
Young kids on a walk to point out the changes Fall is bringing outside (falling leaves, flowers disappearing, fall crops appearing, and earlier sunsets).
A day trip with kids of all ages to pick pumpkins or apples, or to hike a trail.
Dinner or lunch outside; picnics aren't just a summer activity!
Enter into the Liturgical Year: Our Catholic Faith provides us a calendar full of ways to grow spiritually and to get to know the saints! The Fall season has a number of feast days that kids and adults alike can form traditions around. Here are a few favorites (but you can find even more here!).
The Feast of the Archangels (also known as Michaelmas) on September 29. On this day, we recognize St. Michael casting Satan into Hell. Ways to celebrate can include reading about the archangels in the Bible; challenging kids to "act like an angel for a day" (as a messenger or protector!); or eating traditional Michaelmas foods like goose and/or blackberries.
The Feast of St. Francis of Assisi on October 4. This is a great day for kids to learn about God's Creation and our call to care for the earth and all its creatures. Check to see if a church near you has a pet blessing; get your own pet a special treat; or go to see animals at a nearby petting zoo or farm.
The Feast of All Souls on November 2: On this day and throughout November, we remember people who have died. This is the perfect opportunity to teach kids about heaven, hell and purgatory. Consider writing the names of deceased loved ones down on strips of paper and praying for one person at dinner time each night of November.
Participate in Works of Mercy: With the Winter months drawing nearer, it's a particularly appropriate time to think about how we can serve others. Kids can participate in Works of Mercy too! Here are just a few ideas:
Feed the Hungry: Find out what foods your local food pantry is most in need of. Invite children to shop with you for food and drop them off. Bigger kids could even take on extra chores/jobs for money to buy the foods themselves!
Visit the Sick: You may not always be able to physically visit the sick because of exposure to germs, but there are definitely ways to help! Consider making a meal for a family who is sick or video chatting with any relatives who may be quarantined or lonely. Kids can also contribute by making "Get Well" cards.
Bury the Dead: You may not actually have a funeral to go to, but taking a walk through a cemetery to pray for people's souls is a great way for kids to start to understand more about death and to start conversations about heaven!







This article is the copyrighted property of National Catholic Services, LLC. All rights reserved. To provide constructive feedback, or request permission to redistribute, please communicate with: editor@virtus.org
This article is not part of your continuing training. To access your required bulletins you must log in using the form in the upper left-hand corner of the screen. Then go to the TRAINING tab.