For What Shall We Give Thanks, for Whom Shall We Pray?
The wonderful time of year has arrived where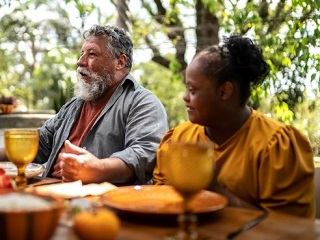 we pause to count our blessings and to give thanks. As we celebrate Thanksgiving, we pause to pray a litany of thanksgiving to God for His many blessings. In addition, we remember those whom are in need of our prayers and support.
For the gift of life and all of creation for us to enjoy and celebrate.
For the blessings of our family who love us and support us.
For the ability to live in our country in safety and peace.
For the food that we have access to and for the variety of abundance.
For the friends we enjoy, with whom we experience life's ups and downs.
For the gift of our gratitude and the ability to acknowledge others.
For the blessing of empathy to see beyond ourselves.
For the many ways in which God sends persons, places and things to save us.
For the gift of Faith and how is transforms us when we are burdened.
For the abundance of resources that make our lives easier.
For the smiles we encounter when we are down.
For the hugs we receive when we are searching for ourselves.
For those who are lost and cannot find their way.
For those who have lost and are grieving.
For those who are hungry.
For those who have no invitation to a Thanksgiving table.
For those who are sick.
For those who have lost their Faith.
For those who rely on themselves and forget God.
For those imprisoned.
For those who are victims.
For those who are trapped in poverty.
For those who cannot forgive themselves or others.
For those who are trapped in bad relationships.

God, giver of all good things, we praise and thank you for your wondrous gifts. Hear the prayers of thanksgiving we offer now and accept our petitions of prayers for our brothers and sisters in need. Thank you. Amen.


This article is the copyrighted property of National Catholic Services, LLC. All rights reserved. To provide constructive feedback, or request permission to redistribute, please communicate with: editor@virtus.org
This article is not part of your continuing training. To access your required bulletins you must log in using the form in the upper left-hand corner of the screen. Then go to the TRAINING tab.